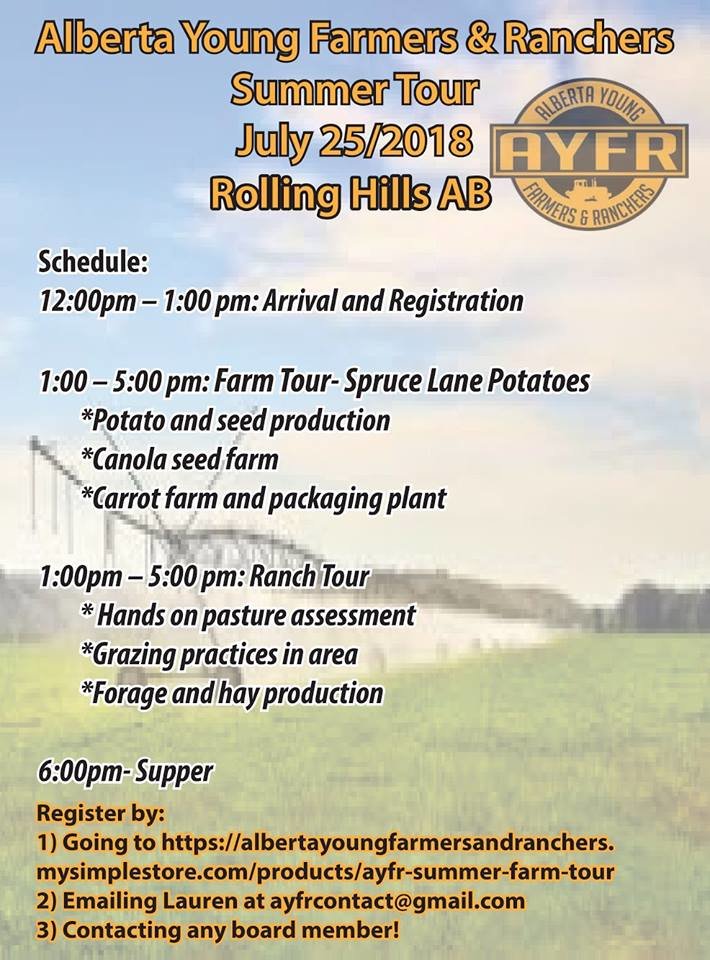 This year we have decided to add another event to the AYFR schedule! This will be your choice of one of two farm tours in Rolling Hills, Alberta, followed by a dinner and networking program!
Tour option one includes a tour of Spruce Lane Potatoes and canola seed farm, where young farmers and ranchers will have the opportunity to learn about potato seed and canola seed production in Alberta. This tour will conclude with a second farm tour nearby that features a carrot farm and packaging plant. Participants will also learn about weed control and management throughout the County of Newell.
Tour option two is for our more ranch based members or for those who want to learn more about grazing and stand management of the land. This will be a hands-on tour, where participants will tour private land owned by the Eastern Irrigation District and learn about grazing stand management, pasture assessment and pasture rotation to maximize grazing productivity of the land.
Event is free, but we do need to know numbers for dinner, so please register either here at https://albertayoungfarmersandranchers.mysimplestore.com/products/ayfr-summer-farm-tour or by emailing Lauren at ayfrcontact@gmail.com or by contacting any board member!